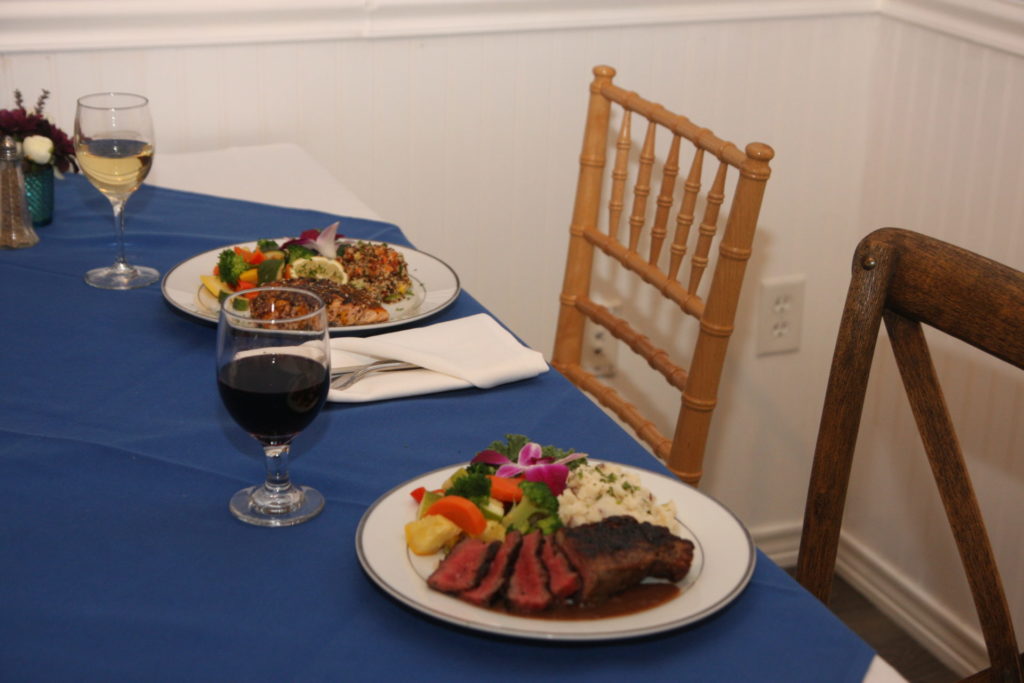 You've said yes to your dress! You've selected a venue, you're looking forward to bachelor and bachelorette parties and your bridal shower!  Now you've scheduled a food tasting, another wedding experience to look forward to!
For most engaged couples, wedding tastings are a completely new experience. We know that the "ins and outs" of wedding planning can be tricky, so we have made a Tasting Guide to help you understand what to expect, what to do, and what to ask!
Celebrations Catering schedules a tasting at your request. We don't have a restaurant space so tastings are scheduled as private dining experiences. One of our chefs will prepare items from your menu, and for this reason we reserve tastings only for clients who have booked with us or are ready to book at the tasting. We are only able to accommodate tastings during our "off season" – our Chefs give their full attention to expertly preparing and cooking for events during busier months of the year. Tasting dates are limited and we recommend you let us know as early as possible if you would like to schedule.
The tasting is designed to allow you to experience our food preparation and presentation. We will choose a few items from your menu, but we may also show you some items that are not on your menu. This allows you to see different preparation methods, and taste different cuisines and spice levels. The tasting should build confidence in our preparation skills so that if you choose another item, you feel comfortable knowing that it will be well prepared for you and your guests.
Please keep in mind – in the event that you choose a menu that includes a Carving Station for example, the tasting will include smaller cuts of meat (not the entire carving station) for you to sample. By sampling small cuts, you can have confidence in how we have prepared, seasoned, cooked, and plated the item.
Prior to the tasting we will discuss expectations and menu options, as well as any dietary and/or allergy concerns. The tasting should only be booked when you are fairly certain which menu you are leaning towards. If you are undecided and hoping to taste specific items before narrowing down your menu, it is important you let use know in advance. The more information from you that we have before your tasting, the better.
Our tastings are hearty and filling. Be sure to bring your appetite as we typically serve a selection of appetizers, entrée options from your menu (with a few variations), as well as a sampling of sides. Not all menu items will be served so it is important to let us know at least a week before your tasting if you have any specific requests.
The tasting is the best time for us to make adjustments to your menu. Don't hesitate to ask any questions or provide any feedback you may have. And just as we have custom built your menu selections, know that we can customize preparation too. Your feedback on sauces and seasonings is very important. It is much easier for us to identify any concerns while you are at your tasting rather than after the fact. Our Chefs are very skilled and can often make minor adjustments to suit your palette on the spot.
Common questions:
Do we get to pick the tasting menu?  
We welcome specific requests from your menu, but the actual tasting menu will be determined by the Chef to be sure you are getting a variety of different preparations, cuisines and spice levels. Tastings are not "taste tests", but rather they a chance for you to get to know us and our food.
Will it be the same food that we serve at our wedding?  
Yes, some food from your menu will be sampled at your tasting. However, the cooking methods may be different. For example: our delicious Grilled Sirloin (that is a favorite on wedding menus) will be cooked over all-natural lump wood charcoal on the day of your event. We can't replicate that for a tasting when we are cooking indoors.
Who can go to the tasting?  
Typically the tasting is for the bride and groom only. We can sometimes accommodate additions, but need to know well in advance.
Does the tasting cost any money?  
They are offered with our compliments to our clients who have booked or will be booking at the tasting.
How many tastings can be scheduled?  
We are able to schedule one tasting per couple, based on availability of our Chefs.