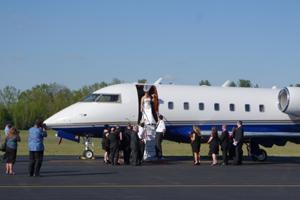 This past weekend was a lively one for all of us here at Celebrations Catering. We've been catering in New Hampshire for the past fifteen years so know just what a seminal time of year it is. It's a time for proud parents to see their kids graduate, for sunny wedding receptions, and even for Parent-Teacher Organizations to raise funds. And, as we always are, we are proud to have taken part in such memorable events last Saturday. Yes, in one day, we gratefully catered to four such events.
Catering in New Hampshire for so long has enabled us to break it down to a science. On last Saturday morning, we began prepping in order to cater for Nashua Community College's graduation at 1pm, the UNH School of Law's graduation in Concord, NH at 4:15pm, a 500+ person wedding that took place right on the Nashua Airport's runway for 5:30pm, and the Parent Teacher Organization's silent auction fund raiser in Brookline, NH from 6-8pm.
Your Satisfaction is Our Pleasure
Everything went off without a hitch. We simply did what we do best; provided gourmet-style appetizers, hors d'oeuvres, and entrees for large amounts of people in a professional, timely, and delicious manner. In order to optimize freshness, we prep as much food as possible on-site while the event begins. This is but one of our practices that makes it possible for us to successfully feed over 2,000 satisfied people in one day!
We provided recent grads and their families with a wide selection of appetizer platters, hors d'oeuvres, dessert platters, and drinks while they celebrated the milestone of graduation together under a warm New Hampshire sun. From Concord, we headed to the Nashua airport to fully cater a wedding that took place right on the tarmac! The groom was a pilot and the bride runs an adjacent café so the venue was quite fitting. For this event, we provided a very BBQ-focused menu complete with sirloin tips, chicken, and ribs. We then headed to Brookline, NH to cater a Parent-Teacher Organization's (PTO) silent auction to raise funds for the Brookline Elementary School.
As busy as we were last Saturday, seeing how happy everyone was with our food and catering services made us all feel relaxed, welcomed, and honored to be given the opportunity to take part in so many important events.
If you're interested in catering in New Hampshire, contact us at: 888-401-3663