With the fall quickly settling in, it's time to start planning for the season's festivities. More specifically, it's time to start thinking about your annual Halloween bash. This year, consider catering in Portsmouth, NH, to make your life a bit easier. At Celebrations Catering, we can take care of the meal, leaving you with ample time for spooky decorations and entertainment for your guests. However, we thought it would be fun to share a few of our creepiest dishes!
Spider Deviled Eggs
This classic appetizer is the perfect Halloween dish. Although the recipe remains the same, with the addition of black olives as a topper, you have a creepy-crawly display. You'll need to purchase both whole and sliced olives to create the spider topper. Once your eggs are filled, place a whole olive into the center, so only the long side of the olive is visible. This is the spider's body. Next, place for sliced olives along the "body's side" to create the illusion of legs. That's it! Deviled eggs with a creepy crawler lurking on top.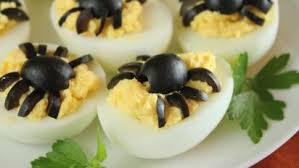 Pumpkin Fruit Platter
There are several variations of Halloween fruit platters. However, for a simple pumpkin creation, you'll need mandarin slices, red grapes, and blueberries. The blueberries will serve as the eyes and nose, while the grapes are the Jack O Lantern's mouth. Surround your shapes by the mandarins to finish the pumpkin design.
Veggie Platter
For this little creation, you'll need a hollowed-out sugar pumpkin. Fill the pumpkin with your favorite veggie dip and surround it by sliced vegetables of your choice. Although this creation isn't what we'd consider creepy, it sure is cute!
Graveyard Dip
Again, there are several variations you can take on this. The key is to select your favorite dip that can be topped with lettuce. The green lettuce resembles the grass on the ground. Then, taking a thin cracker, place the crackers standing upright from the dip to create the illusion of gravestones. Perfect when made with chicken enchilada dip!
Eyeball Spaghetti
A fun twist on classic spaghetti and meatballs, this dish is all about placement. In a large platter, you'll want to arrange the meatballs on the top of the pasta and sauce. Place a small slice of circular mozzarella on the top of the meatball and finish with a sliced olive!
For more festive ideas, contact the team at Celebrations Catering. We're were to assist with your Portsmouth, NH catering needs. However, we're happy to travel and accommodate special requests! Give us a call today and make sure your Halloween party is one to remember. (888) 401-3663