Schnitzel, a word you hear and immediately think of Oktoberfest and German cuisine, right?
But did you know the word "Schnitzel" is actually a term used to describe any flat cut of meat breaded and fried?
There are many names and versions of Schnitzel, including recipes very specific to geographic areas (like Germany and Austria). However, you will find a wide variety of meats used including pork, veal, beef, mutton, and turkey, as well as different breading and dredging ingredients as you explore different version of Schnitzel recipes throughout the world.
Here's our step-by-step recipe of Pork Schnitzel, one of our New Hampshire's Best Caterer recipes, complete with an Applesauce Gravy. If you're not up for trying it yourself, call us for curbside pick up or delivery.
What you need:
Pork Loin
Egg
Breadcrumbs
Flour
Salt
Pepper
Garlic Powder
Butter
Let's Cook
Season your flour with salt, pepper and garlic powder to taste.  Using a mallet, pound pork loin so it is thin.  Bread the pork loin using the two-hand method (one hand for egg, second hand for flour and breadcrumbs).  Dredge the pork loin in flour first. Next, using your second hand, dip the pork loin in egg. Lastly, using the hand you used for flour, coat your pork loin in breadcrumbs. Fry the cutlet over medium heat in butter. Top with an applesauce gravy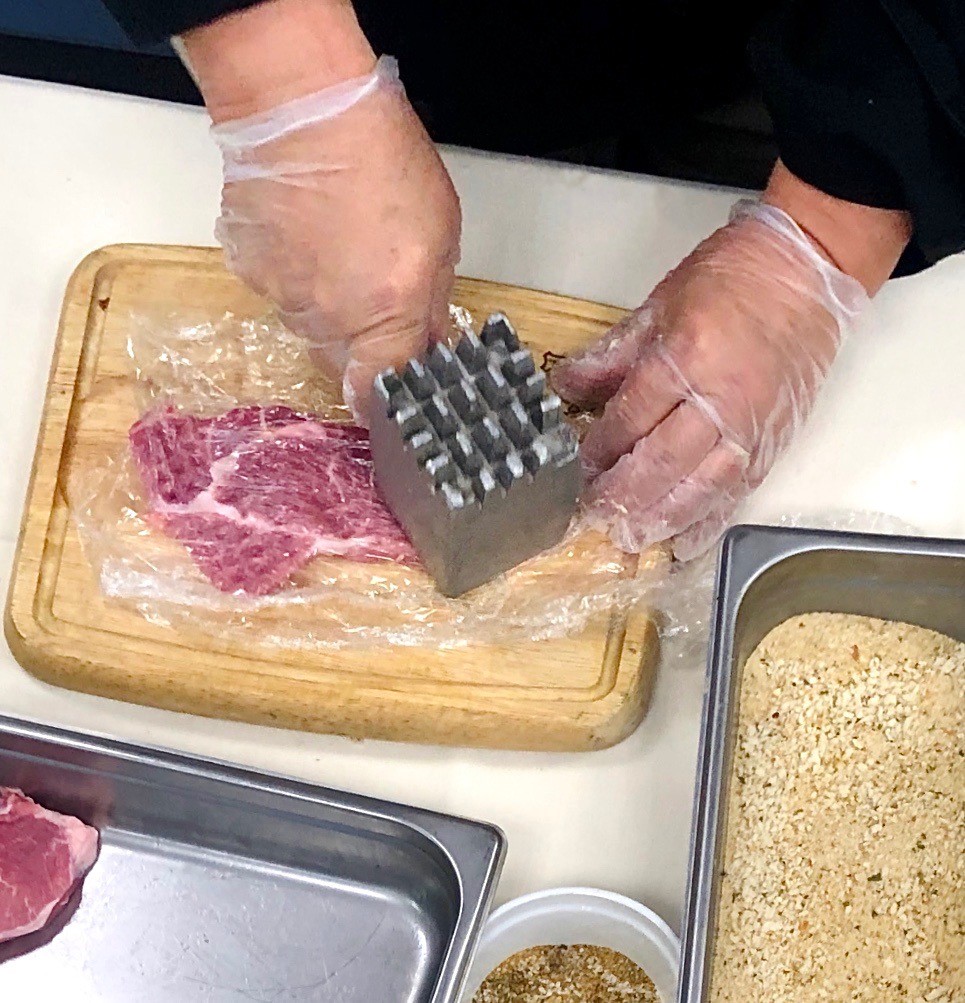 Use your mallet to pound the pork loin until it is thin.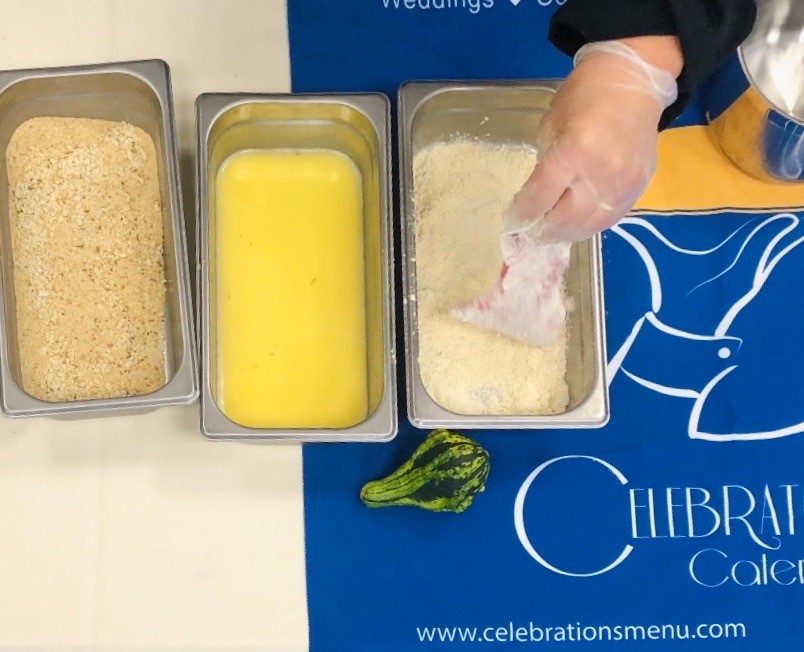 Next, dredge the pork loin in flour. Using your second hand, dip in egg.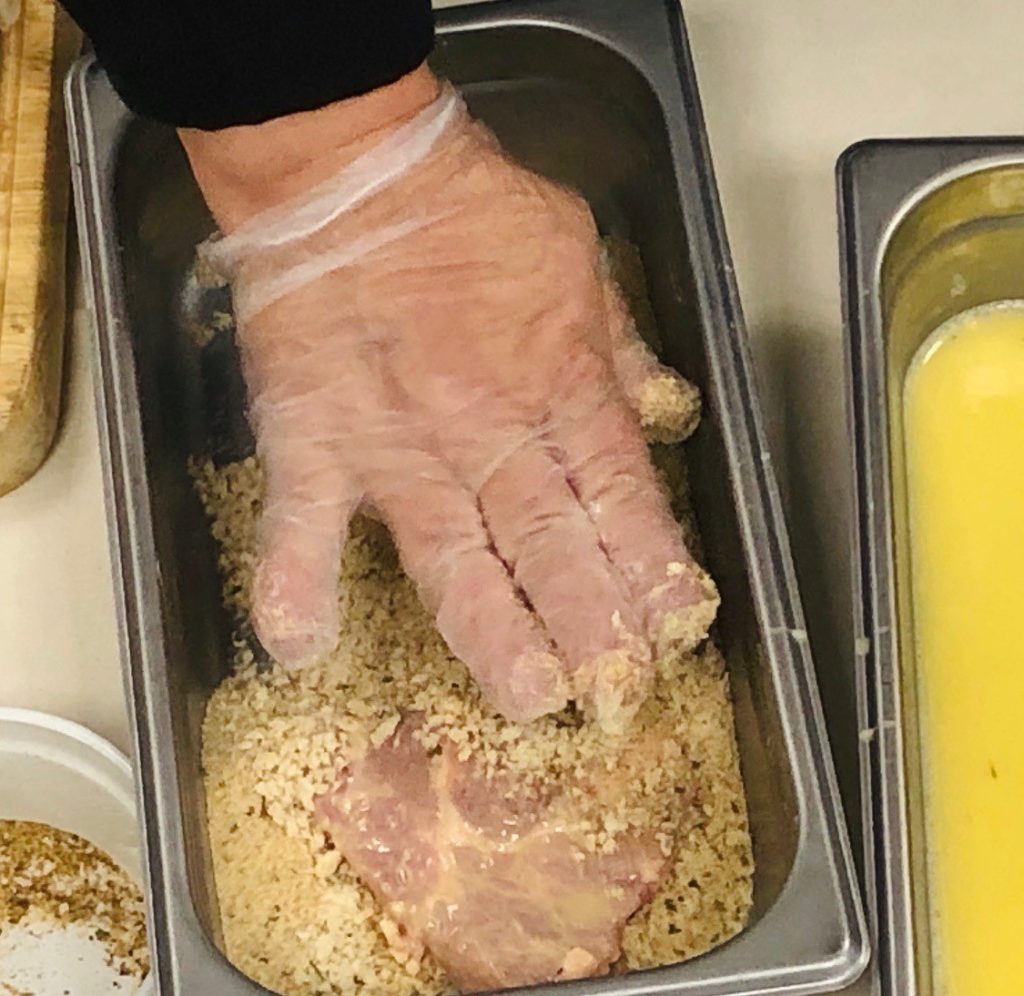 Lastly, using the hand you used for flour, coat the pork loin in breadcrumbs.
Applesauce Gravy
½ cup Chicken Stock
½ cup Apple Sauce
½ cup Apple Cider
Spices to taste, our chef used a pinch each of cinnamon, allspice, clove, garlic, ginger, salt and pepper
Butter
Flour
Combine the Chicken Stock, Apple Sauce and Apple Cider and bring to a boil. Add spices to taste. In a separate pan, create a roux using 1 tablespoon butter and 1 tablespoon flour. Use the roux to thicken your gravy.
Best accompanied with a traditional potato side: mashed potato (Kartoffelbrei), fried potato (Bratkartoffeln), potato salad (Kartoffelsalat), boiled potatoes with salt and parsley (Salzkartoffeln), or boiled skin-on potatoes (Pellkartoffeln).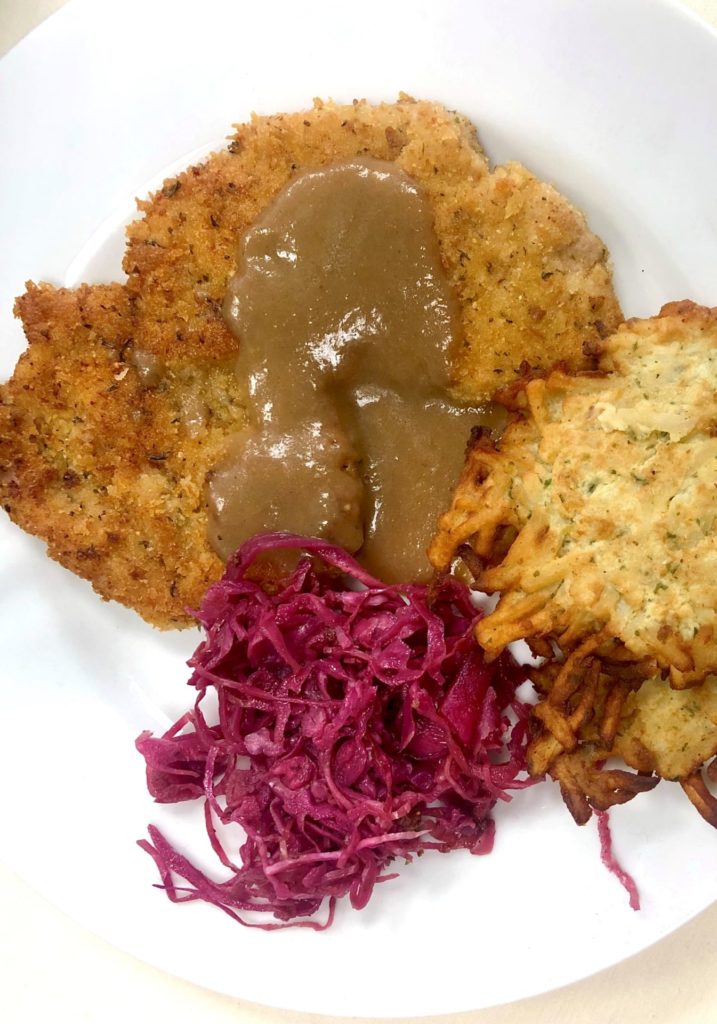 Enjoy!